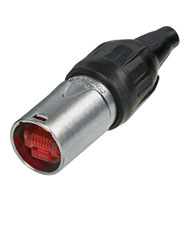 The current NE8MC* product range (NE8MC, NE8MC-B, NE8MC-1, NE8MC-B-1) will be completely replaced by three new products: NE8MX-TOP, NE8MX-B, and NE8MX-B-1. These three products include improved, simplified, more efficient assembly of the RJ45 into the cable carrier.
NE8MX-TOP, with a chromium housing, offers enhanced outdoor protection according to UL50E and an IP 65 rating. The UL50E certification is pending. NE8MX-B, with a black housing, can be assembled to cables onto which RJ45 connectors are already terminated.
NE8MX-B-1, with a black housing, is for cables that do not yet have RJ45 connectors terminated to them.
It is important to note that:
(a) the new NE8MX-B and NE8MX-B-1 are only available in black, and (b) NE8MX-B and NE8MX-B-1 are not IP rated. For all applications requiring an IP rating, the new NE8MX-TOP must be used.